In May of 2005, an unannounced airplane, with 135 Army Troops on board, landed at Portsmouth International Airport at Pease, in Portsmouth, N.H. for refueling.  The service men and women on board were deploying to Iraq.
Airport Manager Bill Hopper and Maintenance Manager Alan Weston brought their available employees to the airport terminal to greet these American heroes.  They did not want these Troops spending their final moments in the U.S. by themselves. Hooper and Weston bought coffee and donuts for the Troops to enjoy during their layover at Pease.   
Hooper later called the Department of Defense to ask if additional flights carrying Troops would be sent to Pease.  The answer was "yes". The Seacoast Marine Corp League was contacted about the flights that would be heading to Pease.  The Seacoast Marine Corp League took the lead on welcoming arriving Troop flights. They were also asked to conduct a ceremony for the Troops coming or going through Pease.   After some additional flights, the Marine Corp League then contacted other military veteran organizations in the Seacoast area to join them greeting the Troops. Now the Pease Greeters is made up of Military Veterans and Civilians.  They are all dedicated to showing their patriotism and gratitude to the Troops at every flight.
The Pease Greeters organization grew in numbers of participants as did the number of flights.  In 2007, the Pease Greeters was designated a 501(c)3 tax-exempt, non-profit organization.
Along with the U.S. Troops, the Pease Greeters have also welcomed Troops from some of our NATO allies including Belgium, Great Britain, Italy, Norway, Macedonia and Tunisia.  
On March 10, 2008, six of the founding "Pease Greeters" were invited to nation's capital be honored for the work of the Pease Greeters.  President George W. Bush met them in the White House Oval Office. They also met with New Hampshire Senator John Sununu on Capitol Hill and Defense Department officials at the Pentagon.
Along with greeting the Troops, the Pease Greeters also ship Care Packages to the Troops overseas, many to Troops who passed through Pease.
On April 27, 2013, the Greeters welcomed their 600th Troop flight.  Now in 2018, a little more than 5.5 years, the Pease Greeters have welcomed the 1600th Troop flight.  Approximately 310,000 Troops have been fed, honored and thanked for their service while at Pease.
The Greeters have adopted a logo with words that exemplified their feelings for the Troops they have the privilege of meeting, "Thanking our Troops – One Flight at a Time" with "Love, Honor & Respect".
The Pease Greeters are at ALL announced Troop flights, inbound or outbound, any hour of any day or night, no matter what the weather may be.
Troops get surprise visit from Bush Sr.: First lady joins husband and Pease Greeters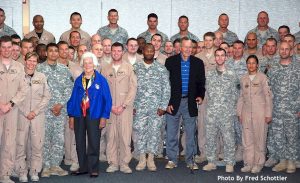 By Geoff Cunningham Jr.
[email protected]
Saturday, October 2, 2010
PORTSMOUTH — Airman First Class Kimberly Robinson thought it was a joke when she and other members of an Air Force unit were told Friday that former President George H.W. Bush was waiting for them to disembark their jet at Pease.
Minutes later she was shaking hands with the former commander in chief.
Returning members of the Air Force's 7th Expeditionary Airborne Command and Control Squadron stepped into the airport terminal at Portsmouth International Airport at Pease to find the 41st president of the United States welcoming them home from the Middle East in a classic Pease Greeters ceremony marked by a very prestigious guest.
"It was surreal … I really don't know how to describe it," Robinson said.
The former president and first lady Barbara Bush made a special trip from their summer home in Kennebunkport, Maine, to join the Pease Greeters in welcoming home troops from a two-month deployment.  More to this story at Fosters.com
Gov. Lynch  Recognizes Pease Greeters
July 28, 2010
MANCHESTER, NH — NH Governor John Lynch presented an award to the Pease Greeters at a ceremony on Wednesday, July 28 at the NH Army National Guard Armory, Manchester.  A large gathering of Pease Greeters assembled in the armory and listened to Governor Lynch praise them for their service to the troops who pass through Portsmouth International Airport on their way overseas and on their return home.
In return, the Pease Greeters presented Gov. Lynch with a sweatshirt signed by the Greeters.  A sweatshirt, like the one presented to the governor, is presented to the senior ranking officer of each flight met by the Greeters.  The tradition started when Pres. George W. Bush was presented a similar shirt in March, 2008.  Director and Chairman of the Pease Greeters, Chuck Cove accepted the award on behalf of the Greeters.  More to the story here.
Chuck Cove
New Pease Greeters Chairman
July 9, 2010
Article by: Chuck Cove, Chairman
Dear Fellow Greeters,
As many of you have already learned Ed Johnson, who has been the Pease Greeter Chair since its inception in 2005, has decided to step down as Chairman and member of the Pease Board of Directors.  Also since 2005, I have been fortunate enough to serve the Greeters and our Troops as the co-Chair.   I am now pleased to announce that I have taken on the role as the Chairman of the Pease Greeters.
I think it is safe for me to say that Ed Johnson will be greatly missed by the Greeters, but mostly the loss of his presence on the Board will be felt by me.  Ed Johnson is a highly decorated Korean War Veteran that brought great insight to our troops, both departing and returning home to American soil, and he offered tremendous leadership to the Greeters.  He has left me with very large shoes to fill.  Shoes I am proud to walk in.  Ed Johnson exemplified all that an American Veteran should be – always faithful, always.  He has been there for me and for my family as I know he has been for many other Greeters.   Ed is more than just a fellow Greeter to me, he is my best friend. Semper Fidelis, Ed.
Captain Ed Johnson Steps Down From Leadership Role.
July 7, 2010
In a letter sent to the Pease Greeters on July 7, 2010, Capt Ed Johnson leader of the Greeters states, "I have had the honor and pleasure of being your leader for the last five or more years.  My association with each of you has been most humbling to me and rewarding. You are all so sincere, willing to serve and enthusiastic. I consider you to be much like angels on earth. Over that time you have made my various roles easy to perform.  We have served the troops well, all the while enjoying our special camaraderie. We have made a point of getting as many people involved with as many tasks as possible.  Each of you has contributed in a most meaningful way.
It is time to relinquish my role as leader, treasurer and secretary. It is time for new ideas, new views. It is time to pass the torch of leadership, but in so doing please know how much you all have meant to me. You will never know."  .
Hometown Heroes Salute Awards Ceremony
Pease Greeters Honored
By Bob Hersey
[email protected]
August 28, 2010
PEASE ANG BASE __ Colonel Paul Hutchinson Commander,157th Air Refueling Wing presented the Pease Greeters with the prestigious Hometown Heroes Award at a ceremony on Friday, August 27, 2010.  Pease Greeters Chairman, Chuck Cove accepted the award on behalf of the Greeters.  The Greeters received a standing ovation when the award was
announced. The ceremony took place in hanger 254 at the Pease Air National Guard Base.
More to the story at Fosters Daily Democrat.
Pease Greeters applauded by military brass, politicians
By Alexis Macarchuk
[email protected]
April 22, 2010 2:00 AM April 22, 2010 2:00 AM
PORTSMOUTH — Edmund Johnson and Charles Cove, co-founders of The Pease Greeters, received a standing ovation from a crowd that included members of the U.S. House and Senate, after accepting the Distinguished Service award from the Military Officers Association of America Tuesday night in Washington, D.C.
"We were able to tell the audience that we regard ourselves as America's surrogate family," Johnson said Wednesday morning. "What we do is an honor and a privilege."
The award, presented by MOAA chairman of the board and retired U.S. Marine Corps Gen. Richard I. Neal, honors individuals and organizations that have been consistent supporters of the uniformed services.
Dressed in bright red Marine Corps regalia, Johnson and Cove accepted the award on behalf of the more than 2,500 volunteers involved in the group's mission.  .  .  .  .
Greeters receive Thumbs Up from Portsmouth Herald
Opinion
April 24, 2010 2:00 AM
Patriotic thumbs up to the Pease Greeters, who earned more well-deserved praise, this week a Distinguished Service Award from the Military Officers Association of America.
The Greeters, represented in Washington, D.C. by the group's co-founders, Charles Cove and Edmund Johnson, received a standing ovation from an audience that included U.S. congressmen.  .  .  .  .  More of this story here
Foster's Daily Democrat, "Tears and Applause On Capital Hill"
More of this story here
Closure at long last: Pease Greeters, Anna Labrie Learns fate of brother's sub, sunk 65 years ago.
Anna Labrie shows a picture of her brother, Torpedoman's Mate 2nd Class George Laderbush, who died on the USS Flier in 1944 during World War II. The U.S. Navy confirmed Monday that Laderbush's ship was found in the Balabac Strait area of the Philippines.
Click here to read the full story. 
EJ Hersom/Staff photographer, Foster's Daily Democrat.
NEMC
May 16, 2010
We have always known that the brave troops serving our country have had plenty of moxie (the word), but now NEMC (New England Moxie Congress) national secretary, Dan Hovey, has made sure that they are rewarded with plenty of MOXIE (the beverage of champions)!
Dan faithfully serves as a Pease Greetermeeting troop planes returning to the US from combat duty and makes sure that they know that we care and appreciate their sacrifices on our behalf and what better way than to make sure that they are greeted and treated with the Mahogany Ambrosia!
Moxie is made available to our troops at Pease through the generosity of Moxie Brand Manager, Justin Conroy and the Coco-Cola facility in Seabrook, NH.
Reprint from NEMC article Members In The News without permission.
Star Spangled Banner Flag At Fenway Park Sunday.
May 23rd, 8:00 AM
Portsmouth, NH…..The Star Spangled Banner Flag, recently unveiled at the Pease International Tradeport by Captain Richard Phillips of the M/V Maersk Alabama mad its way to Fenway Park in Boston on Sunday May 23, 2010 at 8:00AM.   The Flag was flown to help honor all the participating runners in the Run To Home Base 9K Race .  This race is a philanthropic collaboration between the Red Sox Foundation and Massachusetts General Hospital.  The goal of the race was to raise funds to help New England service members returning from Iraq and Afghanistan who suffer from combat stress disorders.   Many may remember that this Flag is the only flag to have flown over the decks of the USS Constitution, USS Bainbridge, and M/V Maersk Alabama. These three ships represent over two hundred thirty years of our American History, battling pirates and other enemies of this great nation.  It is only right that it help fight other more personal enemies as well.   The Pease Greeters are proud to help this worthy cause in any way possible.  .
Star Spangled Banner Flag Takes To The Road
May 21, 2010
Portsmouth, NH…..The Star Spangled Banner Flag, recently unveiled at the Pease International Tradeport by Captain Richard Phillips of the M/V Maersk Alabama will be making its way to the Lee USA Speedway, 380 Calef Highway, Rt. 125 Lee, NH on Friday, May 21 at 6:30 PM.  This is Veterans Appreciation Night.  Veterans will be admitted free. More to this story here.  .
Star Spangled Banner Flag
Unveiled – Saturday, May 15th.
The Star Spangled Banner Flag was brought to and unveiled in a ceremony at the Pease Air Terminal on Saturday May 15th, 2010 at 1:00 PM.  Pease Greeters  arrived at noontime and the ceremony started at 1:00 PM and conclude at 4:00 PM.
Special guests joined the event to include, an honor guard from the USS Constitution and Captain Richard Phillips of the M/V Maersk Alabama along with his wife Andrea.  Many will remember Captain Phillips from his appearance during a flight last summer of
After the ceremony, Captain Richard Phillips, who recently wrote the book A Captain's Duty, signed books that people brought with them to the airport.
We would like to thank the USS Constitution Honor Guard and Captain Richard and Andrea Phillips for taking time out of their hectic schedules to appear at Pease Air Terminal for this momentous event.  Everyone pitched in and gave them a thunderous welcome.  Pease Greeters, One . . . Two . . . Three . . .
Pizza was served after the ceremony to all those who attended.
Star Spangled Banner Flag
May 2010
An idea had been spawned.  After fifteen months of communications with the U.S. Navy, several Fortune 500 companies, and even the AAA, the idea led to those two famous words, Road Trip.  From most was heard, 'You're going to do WHAT?"  To those less faint of heart, and crazy Irishmen was heard 'Let's go!'  Actually, the first words were "head south!"  So, started an epic journey of thePease Greeter Road Warriors to go south, to a place called the Norfolk Naval Base in Norfolk, Virginia.
The journey was uneventful in the beginning.  The fierce rainy weather had broken and wonderful Spring heat was felt.  The floods were just a painful memory. The states slipped by as in New Hampshire, Massachusetts, Connecticut …Oh, if you hadn't guessed by now we were driving. The pleasant unwavering car speeds were just glorious, and actually within the posted speed limit, until we entered the outskirts of New York.